PRODUCTS
all the equipment you need to create a wonderful home cinema experience.

Recently we have partnered with 5 very exciting manufacturers to bring that next level to your home entertainment.  
Kaleidescape is the only digital provider of movies with lossless audio and full reference video quality.
Kaleidescape elevates every component in your theater
____________________________________________________________________________________________________________________________________________________
Vividstorm is the manufacturer of floor rising and ceiling dropping screens, specifically for Ultra Short Throw projectors, and is a cornerstone of our laser TV offerings.
Aegis AV Cabinets makes cabinets specifically for Ultra Short Throw projectors either for fixed screen applications, or with the integration of the Vividstorm Floor Rising UST screen for an even cleaner look.
Nexus21 manufacturers lift products for cabinets, TV's and Projectors.
As of Friday, August 26, 2022, Wicked Home Theater became the first Ko-Kast reseller in Washington State.  Ko-kast created an immersive system utilizing three 4K laser projectors, three screens in a 180 degree setup (100″ – 120″ screen), 7.1 surround sound and can be used in both residential and commercial applications.  Whether it is a home office, exercise, meditation and relaxation, movies and television, concerts, sports or gaming, you can watch in the full 180 degrees, or split your viewing into 3 separate sections.  Imagine, watch a movie on one, a sports match on the center and play a video game on the third.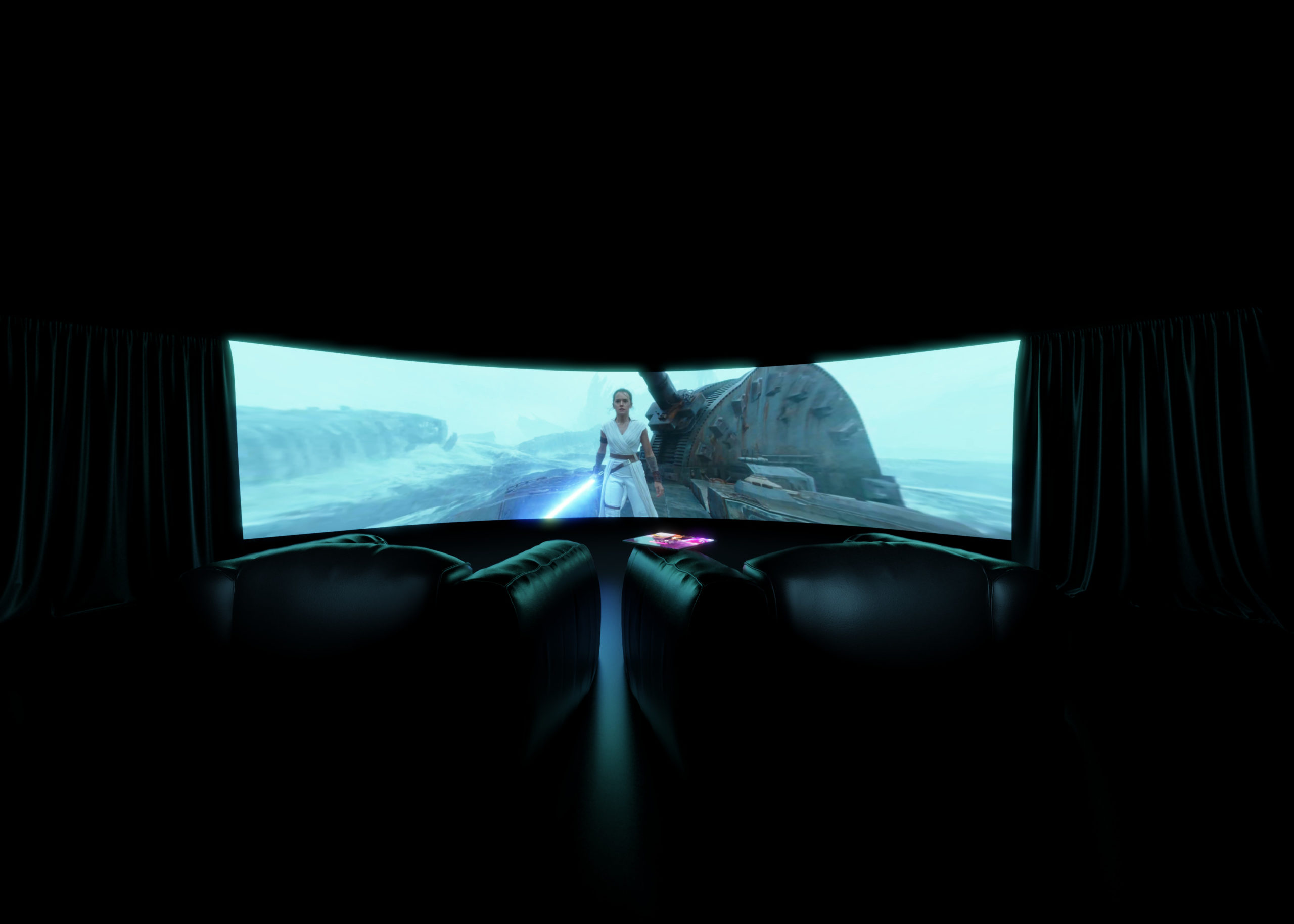 Epson 
Optoma
LG
JVC
Sony
Samsung
1080p, 4K/8K, Laser, Standard Throw, Short and Ultra Short Throw
*New* Vividstorm
Screen Innovations
Elite Prime Vision
Stewart Filmscreen
Dragonfly
Dalite
Ambient Light Resistant, Ultra Short Throw, Fixed, Manual, Motorized, Portable from 80"-200"
Audio Control
Yamaha
Marantz
Denon
Sony
From base 3.1 all the way to 13.2.4 systems!
Velodyne Subwoofer
Klipsch/Jamo
Sonos
Stealth Acoustics
Origin Acoustics

Definitive Technology

Monitor Audio
Yamaha
KEF
Episode
Floorstanders, in wall, in ceiling, invisible, outdoor
Sound bars (passive and active)
Sonos / MusicCast / URC / HEOS wireless streaming systems
Dolby Atmos/DTS:X
Custom Installation and Professional Commercial Speakers
Sony
LG
Samsung (Indoor and Outdoor)
Sunbrite (Outdoor)
4K/8K UHD HDR, OLED, QLED from 45"-98" including outdoor capable TV's by Samsung "The Terrace"
*New* Nexus21
*New* Aegis Designs
AC Infinity
Salamander Designs

Mantlemount

Sanus / Chief / Peerless
Cooling for cabinets, wiring rooms, components, grow rooms.
Cabinets and credenzas for Ultra Short Throw projectors
Projector, TV, and over fireplace mounts
FINANCING AVAILABLE!**
Ask us about discounts and special offers for Military and Veterans!
Disabled, veteran owned, local business. Wicked Home Theater is a subdivision of PC Networks, Inc. celebrating it's 20th year in business.



** On approved credit from Merchants Acceptance Corp